Technologies
We are interested in any technology that can play a part in the furtherance of petrol/electric motorcycles and have expertise in the following:
Electric Motorcycle Systems - we developed, manufactured, re-manufactured and routinely modify our own electric motorcycle, testing out motors, cell chemistries, motor controllers, chargers, displays and BMS's all connected over the CAN network. Our test-bed motorcycle is ideally suited to testing out all electric motorcycle components in a real-world motorcycle form factor.
Motorcycle Dynamics - Motorcycle race teams can spend a whole racing season ensuring their motorcycle set-up is absolutely on-point. The physics is the same for anything on two wheels, being critical for handling, safety and even comfort. Getting this right for any two-wheeled project is key.
Traction Control - a big deal for the future of motorcycle safety and routinely misunderstood. We are reviewing and testing the best of the currently available 3rd party solutions and we can play a part in your project.
RADAR - Drivers of new vehicles are routinely warned of other vehicles in their blind spots and even have their brakes applied if a collision is imminent. Motorcycles, due to their smaller size and plastic panels (invisible to RADAR), are less readily picked up by RADAR than other cars and have poor RADAR visibility.
We have our own passive trihedral RADAR reflectors built into a bike screen and tested with standalone RADAR emitters and actual cars. This has been important to sea-going small boats (wood and fibreglass are also invisible to RADAR) for some time (see image below). Motorcycle manufacturers such as BMW and Suzuki have been developing their own reflectors along the same principles.
Vision Systems - fulfil a similar role to RADAR but rely on cameras and Artificial Intelligence to interpret the constantly changing image. We are reviewing and testing the best of the currently available 3rd party solutions as fitted to one of our test bikes.
Vehicle to Vehicle (V2V) Comms - enables a vehicle to access information about the speed and position of other V2V enabled vehicles surrounding it using a wireless communication protocol similar to Wi-Fi. That data can be used to alert the driver of potential dangers thereby helping to reduce accidents and traffic congestion. V2V has the power to make riding and driving a more predictable and safe activity for everyone on the road. This is a societal change and far bigger than any number of motor vehicle manufacturers. V2V integration will require much collaboration with interested parties such as the CMC (Connected Motorcycle Consortium) who were set up to ensure motorcycles are fully considered in a V2V infrastructure. There are competing technologies in this . We have experience in precise location dead-reckoning hardware (critical for success) as well as MQTT - a lightweight network protocol for communicating the specifically formatted information.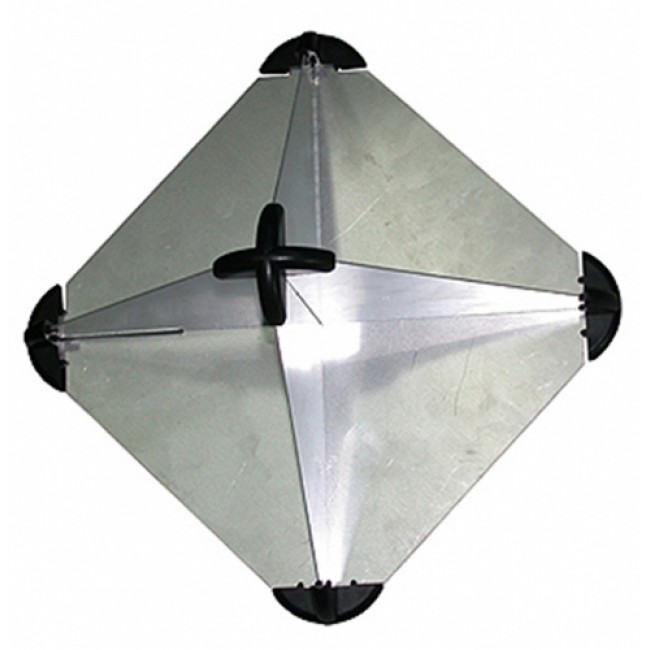 A delightfully basic aluminium RADAR reflector used on small boats to stop the bigger boats running over them - typically 450mm across