Shed ONE (prototype)
- A Shed ONE utility-commuter electric motorcycle we can build for you or with you and road test.
- Future-proofed with plug-in modules catering for upgrades/repairs for long term usage.
- Choose from different component specifications and software option/settings.
- We'll take you through the possibilities for future projects.
- Supported for life.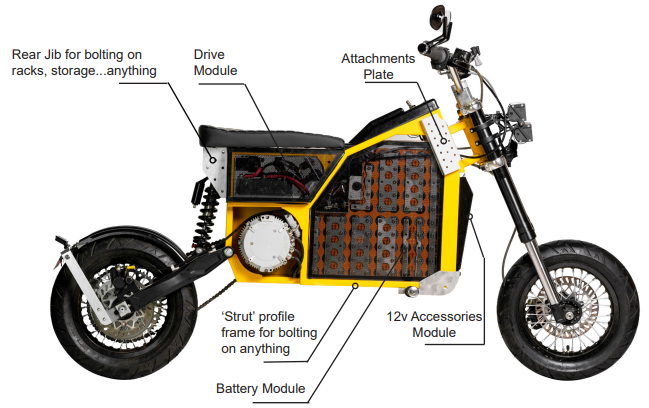 Main components below. Full spec to be confirmed.
Shed ONE Core

Shown here with modules exposed. Comes with:

Frame (orange)
Drive module (under seat)
Accessories module (Front)
Battery module (centre)
Motor (bottom rear)

Seat

Other Parts not shown include wiring loom, throttle, ignition and drive switches.​

For more info see Shed One Core

Motorcycle Parts

Frame ONE is designed around readily available Pit Bike suspension, swing-arm and brake caliper parts made to the common SDG standard.

As there is no need for a clutch, quad bike handlebar brake levers are used for the front and rear brakes. No need for a foot brake.

Wheels are shod with Continental road tyres

Sprockets

Front and rear sprockets typically provide a ratio of 4:1to 5:1 for our particular motor. This would be determined by factors such as terrain or a preferred combination of higher acceleration with lower top speed.

12v Accessories

There are options for lights including these lightweight indicators and combined rear, brake & number plate light mounted to the rear mudguard, being mounted to the swing-arm.
For a complete list of supplied parts to complete the motorcycle see Product Comparison chart.
--- Optional Part ---
Android Display

Display uses an android device which could be your old tablet or mobile phone or we can supply.

The software is the popular Torque Pro app allowing endless possibilities for the digital dials. The app is downloaded from the Google Play store.

You can even design your own dial graphics from scratch.

Information for the display dials is received via bluetooth connectivity from the main bike modules.

We provide instructions on how to set this up and make future changes.