Road users routinely miss the presence of a motorcycle or misjudge a motorcycle's distance and speed - leading to accidents. Reliable solutions have not been forthcoming though there is consensus that the combination of technologies including RADAR and V2V (Vehicle to Vehicle) infrastructure would greatly reduce the likelihood of an accident.
RADAR - has been around for decades but recent advances have made there way into new cars that can warn of other vehicles in their blind spots or of a potential collision if brakes are not quickly applied. Due to their smaller size and plastic panels, motorcycles are less readily picked up by RADAR than cars so efforts are required to ensure motorcycles can readily and effectively reflect the electromagnetic waves back to the originating vehicle for good radar visibility.
V2V - enables a vehicle to access information about the speed and position of other V2V enabled vehicles surrounding it using a wireless communication protocol similar to Wi-Fi. That data can be used to alert the driver of potential dangers thereby helping to reduce accidents and traffic congestion. V2V has the power to make driving a more predictable and safe activity for everyone on the road including motorcyclists. This is a societal change and far bigger than any number of motor vehicle manufacturers.
Shed RADAR - We intend to be at the forefront of 2-wheel safety and the above technologies will be centre-stage for us with works concentrating in the following areas:
Improving RADAR visibility of our bikes to other vehicles. This has been important to small boats for some time. The reflector principles would remain the same but the practical solutions require redesign including miniaturisation for motorcycles. Example small boat RADAR reflector below. Motorcycle manufacturers such as BMW and Suzuki have been developing their own reflectors along the same principles.

Implementing RADAR solution on our bikes for situations such as blind spot and collision warnings. We are reviewing the best of the currently available solutions.

V2V integration will require, for us, much collaboration with interested parties such as the CMC (Connected Motorcycle Consortium) who were set up to ensure motorcycles are fully considered in a V2V infrastructure. We will want to play a part in these exciting developments.
Shed motorcycles, being designed around the Circular Economy, can be routinely upgraded, as required, to improve safety as new technologies are available. A subscription model essentially allows bikes to be kept on the road and be upgraded/re-manufactured at opportune intervals.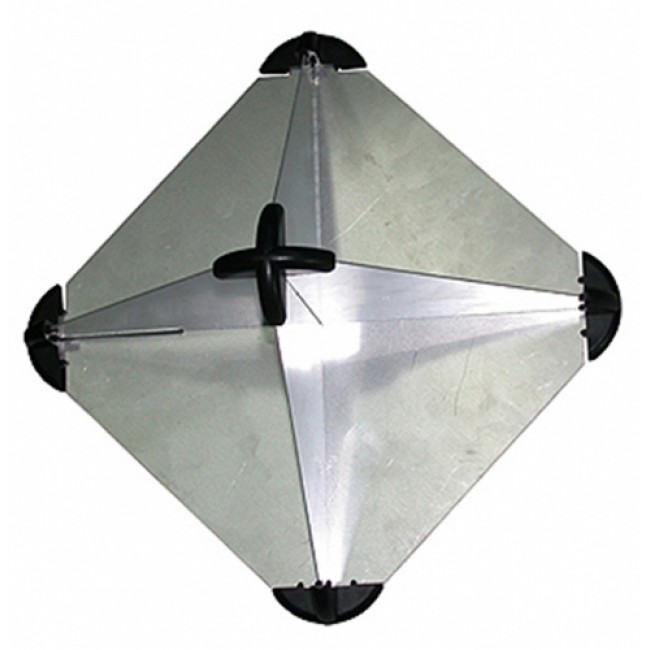 Aluminium RADAR reflector for a small boat - typically 450 mm across